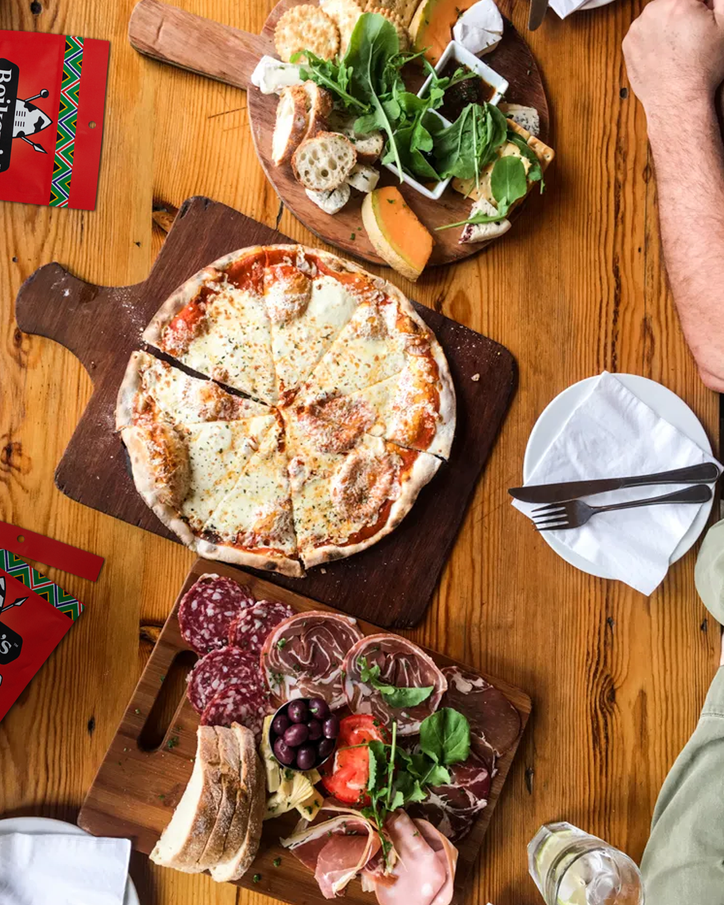 What could be better than combining two of the most delicious things on the planet: pizza and biltong?! The next time you make pizza, supercharge your pie with protein by tossing a hearty handful (or two) of Boikey's Biltong on top. Adults and kids alike are sure to be begging for seconds! If you ask us, we love adding Chili Biltong to our pizzas to give them a little extra kick, but we can't wait to see your take on our biltong pizza recipe.
Ingredients
1 pizza crust (store-bought or homemade, your choice!)
500 grams of onion, finely diced (to be carmelized)
Pinch of salt
Pinch of pepper
Dash of onion powder
Dash of dried parsley
Dash of paprika
Dash of chili powder

Dash of garlic powder

250 grams pizza sauce

1 2-oz. bag Boikey's Traditional or Chili Biltong
600 grams of mozzarella cheese, grated
100 grams of jalapeños, sliced
80 grams of tortilla chips, crushed
2 avocados, peeled and sliced
Directions
Preheat your oven to 428⁰F (220⁰C).
Mix the dry spices together in a small bowl and set aside.
In a roasting pan over medium heat, dry-caramelize the onions. Turn the onions regularly. When almost fully caramelized, add the dry spice mix.
Next, assemble the pizza. Start by spreading the tomato mixture over the whole pizza crust.
Top the crust with the caramelized onions, Boikey's Biltong, jalapeños, and mozzarella cheese.
Put the pizza in the oven, and bake for 10-12 minutes.
Right before serving, garnish the pizza with avocado slices and crushed tortilla chips.
This recipe was adapted from Unilever Food Solutions' "Caramelised Onion and Biltong Pizza" recipe.