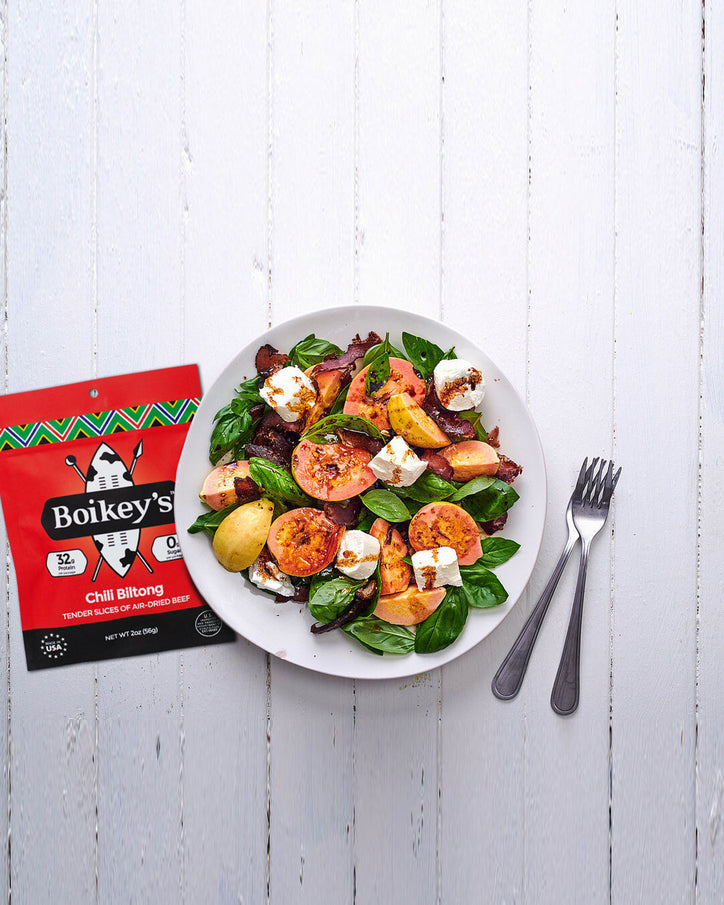 Get a taste of South Africa with this delightfully bright salad recipe! Combining fresh greens with juicy mango, tangy feta cheese, and, of course, a sprinkling of Boikey's Biltong on top, this salad boasts a variety of textures and flavors to keep your tastebuds on their toes. This simple, yet tasty, salad, is sure to impress whoever is lucky enough to get to enjoy it with you.
Salad Ingredients
160 grams of mixed baby greens
1 ripe mango, peeled and sliced lengthwise
1 2-oz. bag Boikey's Traditional or Chili Biltong
1 cup feta cheese, cubed
6 spring onions, chopped
100 grams of toasted macadamia nuts, roughly chopped
Ground black pepper, to taste
Dressing Ingredients
½ cup fresh mint leaves, roughly torn
1 cup greek yogurt
2 tbsp. olive oil
1 tbsp. white wine vinegar
Juice of one (1) lime
Directions
Whisk the dressing ingredients together, and refrigerate.
When you are ready to serve, lightly toss the salad leaves in the dressing until glistening (but not soaked or drowning in it).
Arrange on a plate or serving platter.
Top decoratively with the mango slices, Boikey's Biltong flavor of your choice, and feta cheese.
Right before serving, sprinkle the spring onions and macadamia nuts on top.
Season with black pepper and serve.
This recipe was adapted by Titian and Tumeric from a recipe by Chef Jonty Nicolson. His original recipe can be found in the cookbook, "East Coast Tables: Specialties, Flavours, Family Recipes and Kitchen Secrets from the KwaZulu-Natal Coast."