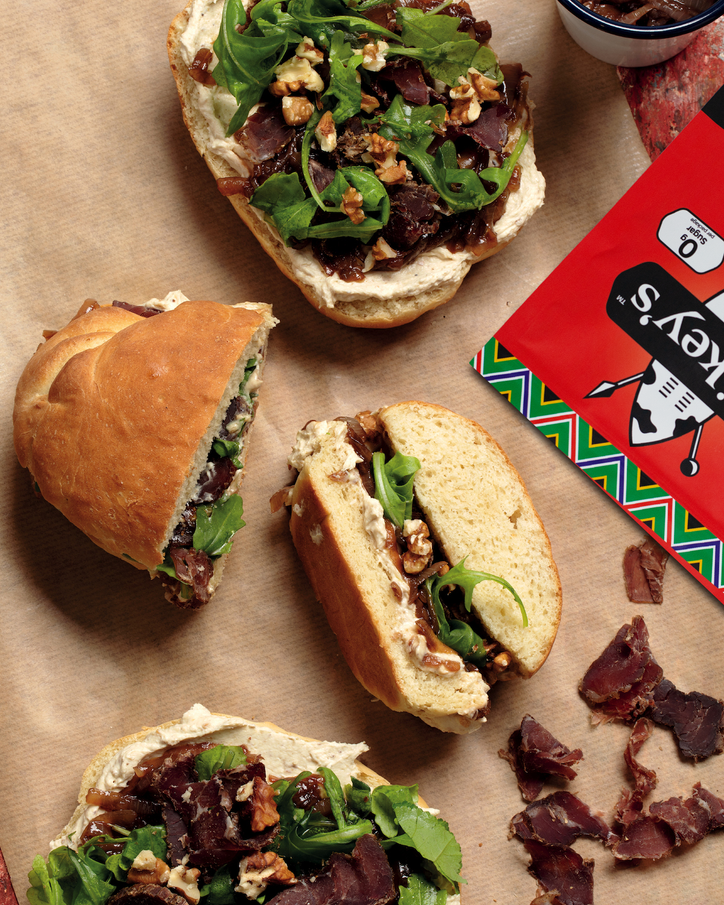 Sick of the same old ham and cheese? It's time to step your lunch game up with a Boikey's Biltong sandwich! We bet you're thinking biltong is too stiff and dry for a sandwich, but you've got us confused for your average jerky. Boikey's Biltong is thinly sliced and incredibly tender and flavorful, making it the perfect substitute for your deli meat of choice. The best part? It's packed full of protein to keep you feeling energized all afternoon!
Ingredients
2 slices of bread
1 tsp. butter
Handful of arugula
1 2-oz. bag Boikey's Traditional or Chili Biltong
Salt and pepper, to taste
Small pinch of chili flakes
2 mustard lettuce leaves (optional)
Choose Your Extras
Pickled onions
Walnuts
Ham or turkey
Cheddar cheese
Parmesan cheese
Cucumber
Tomato
Balsamic vinegar
Avocado
Directions
Grab two slices of bread or cut two slices of bread off of your preferred loaf. (We prefer sourdough, great-tasting and gentle on the stomach! You can also toast your bread at this step if you like.)
Spread butter on the inside of each slice.
Wash the arugula and optional mustard lettuce.
Layer the bread with all of your toppings, including the washed arugula and mustard lettuce, and a generous helping of Boikey's Biltong!
P.S. You can easily turn this sandwich into a grilled cheese or panini if you prefer your sandwiches warm. Want a breakfast sandwich instead? Top it with a fried egg for some extra protein to jumpstart your morning.
This recipe was adapted from Rebel Kitchen's Beef Jerky/Biltong Argula Sandwich recipe.