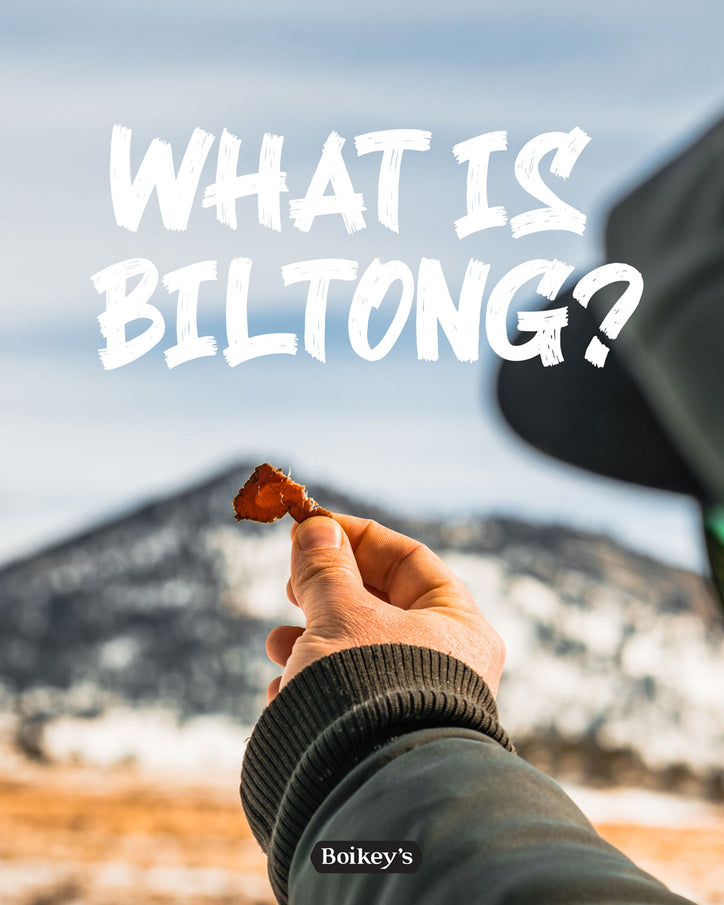 Everyone knows what jerky is—but what is biltong? This traditional South African snack is the healthier (and tastier!) alternative to jerky you need in your pantry, in your backpack, in your car, and in your purse. Let us tell you all about how this delicious, protein-packed treat came to be, how it's made, and why it's so good for you.
The history of biltong
Hundreds of years ago in South Africa, the creation of biltong arose from a need to preserve large quantities of food, due to the warm climate and not-yet-invented icebox and, later, refrigerator. Biltong also came in handy for Dutch settlers, known as Voortrekkers, who migrated to South Africa and needed food that was durable and would stay stable throughout their trek.
The word "biltong" comes from the Dutch language, with bil meaning "buttock" and tong meaning "strip" or "tongue." These words refer to the cut of beef traditionally used to make biltong, as well as the shape of the beef strips, which is long and thin.
Biltong is still a popular product in South Africa today and can be found in most grocery stores and butcher shops. It comes in many different shapes, sizes, and packages and is enjoyed by adults and children alike.
How biltong is made
Biltong was traditionally made during the wintertime in South Africa. The lower temperatures allowed them to more safely and carefully cure the product. The cold air also proved to be a more effective way to air dry the meat. When the meat is allowed to dry slowly, it allows for better color, flavor, and texture in the final product.
Biltong recipes were passed down from generation to generation, with some variation, but typically, the meat was marinated in vinegar and a generous amount of spices were rubbed into it. The most common spices were salt, black pepper, and coriander.
At Boikey's Biltong, we have combined the best of the traditional method with the latest in modern technology. High-quality round roast cuts of USDA Choice beef are cured with all-natural vinegar and spices and then air-dried to perfection in a state-of-the-art facility in the U.S. It takes a full week to naturally cure our biltong, which is 42 times longer than it takes to make beef jerky.
Why biltong is healthy
When rapid heat curing is removed from the equation, you get a better tasting and higher quality product than jerky. Since Boikey's Biltong is air-dried, the end result is tender, flavorful slices of beef that melt in your mouth. Picture a texture similar to Italian prosciutto.
You'll see why we're so proud of having created such a healthy product when you flip a bag of our biltong over. When we refer to our "Fresh Flavor Clean Label Promise," we really mean it. Boikey's Biltong is high in protein, boasting 32 ounces of protein per bag, all while staying low in sodium. It's also sugar-free, gluten-free, GMO-free, and keto-friendly!
A snack that's healthy, filling, and convenient to grab and go can be hard to come by, but Boikey's Biltong fits the bill. It's the perfect snack for a variety of lifestyles—whether you need a boost at work, want a nutritious treat for your kids after sports practice, or are looking for simple fuel for an upcoming hike or ski trip.
What are you waiting for? It's time for you to try some biltong. Order your Boikey's today!